MENORCA ANCESTRAL - WORKSHOPS DE ARQUEOLOGÍA
Through this 4-day intensive workshop you will gain in-depth knowledge on the Talaiotic Culture, candidate for World Heritage Site, and you will discover the archaeological wealth of Menorca. Different routes throughout the island will allow visitors to visit from the most emblematic sites to those which are found in lesser known areas. In order to prepare said visits, we will offer conferences to explain the details of the undergone excavations, as well as on the different theories related to the findings. While visiting the sites, the great experience of the archaeologist in excavations and investigations in all of the island will allow us to expand the information in order to provide more interesting details for the participants and offer rigorous scientific responses towards any questions you might have. The scheduled routes not only allow you to deepen your understanding of Menorcan archaeology, they also allow you to discover other aspects of the island: ethnology, beaches, ravines, the Camí de Cavalls...since the island has numerous sites. In fact, Menorca has approximately 10% of Spain's Sites of Cultural Interest, most of which are prehistoric sites.
Elena Sintes will be in charge of this workshop. She is a member of the Menorcan Institute of Archaeological Studies and has much experience in excavation, restoration, and investigation, and knows Menorca's territory very well. Her vast background in archaeology and the presentation of heritage represents the perfect equilibrium between scientific information and communication.
In order to participate in this workshop you do not need specific studies. It is aimed towards a public which isn't specialized but which has a keen interest on the subject. For this reason, we have carefully selected the guides, all of which have a specialized scientific background and, at the same time, good communication skills.
The language of this workshop will be in accordance with each group's needs and will be offered in Spanish, English or Catalan.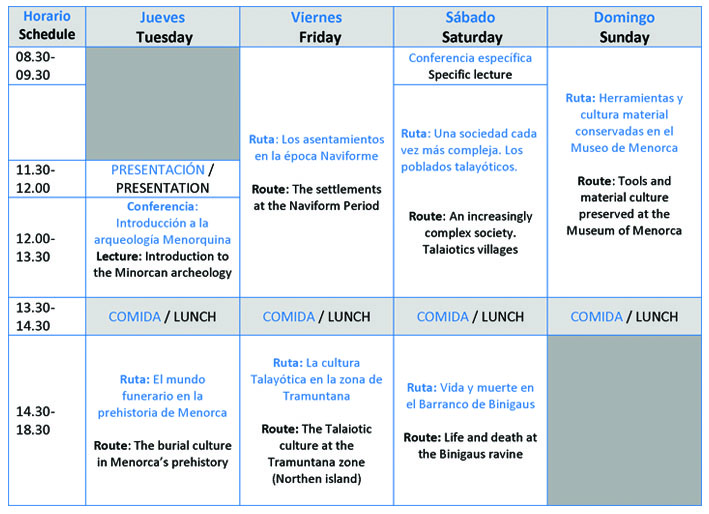 Dates of ¨Ancestral Menorca¨ workshops:
- From the 26th till the 29th of September
- From the 3rd till the 6th of October
- From the 14th till the 17th of November
Rates:
The total price of the workshop is 750€
It includes: Accommodations (3 nights), all meals except dinner, internal transportation and activities, materials, routes, and conferences. Traveling to Menorca is not included.
Payment Method:
In order to make the reservation, you must pay 30% of the rate (225€)* through bank transfer. Contact us at administracio@mediterraneum.cat and we'll provide further details in the shortest delay possible. If you prefer to contact by phone, please call us: (0034) 971 37 51 62 or (0034) 660 001 623